Registry Tool - Windows registry editor and registry repair utility
Registry Tool includes a complete Windows registry editor for the Windows 95 98 Me NT 4.0 2000 XP 2003 Vista registry which edits all data types. Registry Tool can edit values OFF-LINE or simultaneously edit the Windows registry due to its exclusive Registry Updating Feature. This dual-mode behavior enables you to safely create Custom Templates. Registry Tool's value edit dialog Code Window shows the ASCII value of any character in either the value name or data. Special, non-printable ASCII code insertion in character data, or the value name, is discussed below.


Figure 1 shows a string value being edited with the insertion point for the ASCII code being before the "v" in the value data -- "vxdfile".
Figure 1 - Registry Tool - Windows Registry Editor Value Editing Dialog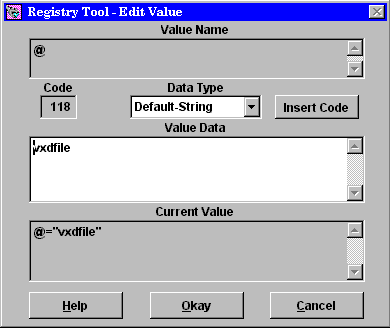 Figure 2 shows the value edit dialog after the Insert Code Button was pressed, note the "[<Insert>]" place holder identifying the insertion point. The character code for the desired character is entered into the Code Window and the Okay Button is pressed completing the insertion, as shown in Figure 3.
Figure 2 - Registry Tool - Windows Registry Editor ASCII Code Insertion
Figure 3 - Registry Tool - Windows Registry Editor After ASCII Code Insertion