Rollback window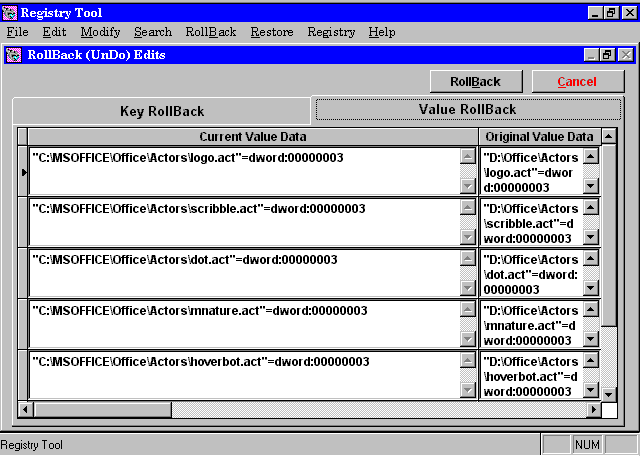 Registry Tool RollBack (UnDo) features
Multi-Generation Undo - Registry Tool Undo does not require you to Undo edits in the order you made them. Instead, edits are tracked by specific key and value and you are allowed to Undo any given edit, regardless of when you made the edit or which editing command was utilized.

The RollBack window is a pageframe consisting of two tabbed pages, each containing a grid. The first page is for key edits, the second for value edits. The grids have a horizontal slider and each shows two columns, the current and previous key or value. The Find command works in both grids and all the columns. Deleted items are displayed with "**** Deleted ****" and the original data in the current column, and "**** Added ****" and the current data in the original column for key and value adds. Modified keys or values don't have a prefix. An edited item is returned to its previous value by selecting it and pressing the RollBack button.

In the example, Search and Replace was used to change the drive letter and path after a hard drive replacement. Program folders can be relocated without reinstalling the software by using Search and Replace.